DISCstyle™ Online Report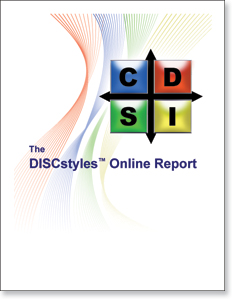 An indisputable fact is that people prefer to interact with people they like. The ability to create rapport with people is a fundamental skill in sales, management, personal relationships, and everyday life. The goal of the DISCstyles is to help you create personal chemistry and productive relationships. You do not have to change your personality; you simply have to understand what drives people and recognize your options for effectively dealing with them. DISCstylesteaches you powerful life skills that will serve you well in all your relationships: business, social and family.
The DISCstyles online assessment is a resource for individuals and organizations desiring to improve performance, increase productivity and to positively persuade other people.
Unlike many other behavioral assessments, our 34-page reports are as much  as they are descriptive! In other words, we spend as much time teaching you how to improve your own productivity and interpersonal interactions as we do describing your natural DISC behavioral style. We realize that you are about to invest money and time in our online assessment, so we want you to come away with fast, effective learning strategies that get you results immediately. The DISCstyles report has two parts:
PART I – UNDERSTANDING YOURSELF
Your DISC Graphs
Your Behavioral Style Overview
Strengths and Struggles
Management Strategies
What Motivates Your Style
Work Preferences for Your Style
Communication Tips for Other
Summary of Your Style
 PART II – APPLICATION OF DISC STYLES 
Application, Application, Application
The Four Basic DISCstyles Overview Chart
How To Identify Another Person's Behavioral Style
What is Behavioral Adaptability?
How to Modify Your Directness and Openness
Tension Among the Style
Action Plans With All Four Styles
How to Adapt to the Different Behavioral Styles
The DISCstyles Assessment is valuable for individuals and all types of organizations; public or private; large or small.
Our proven, scientific measurement tool will assist you in specific areas that directly impact productivity:
Improving Executive Team Performance
Developing Leaders
Making Smarter Hiring Decisions
Increasing Employee Retention
Leading People More Effectively Through Improved Communication
Increasing Profitability
Growing Sales
[button link="http://www.1shoppingcart.com/SecureCart/SecureCart.aspx?mid=AC860761-8844-4F37-931C-6C94658ADEAC&gid=a56d20be8821ea7a758ce1a78366e58c" style="light_gray"]Order: DISCstyles Assessment Only For $77[/button]
You'll also have the option of adding a 30-minute
debrief/review of your results in the cart.